Scribd: Meet the Character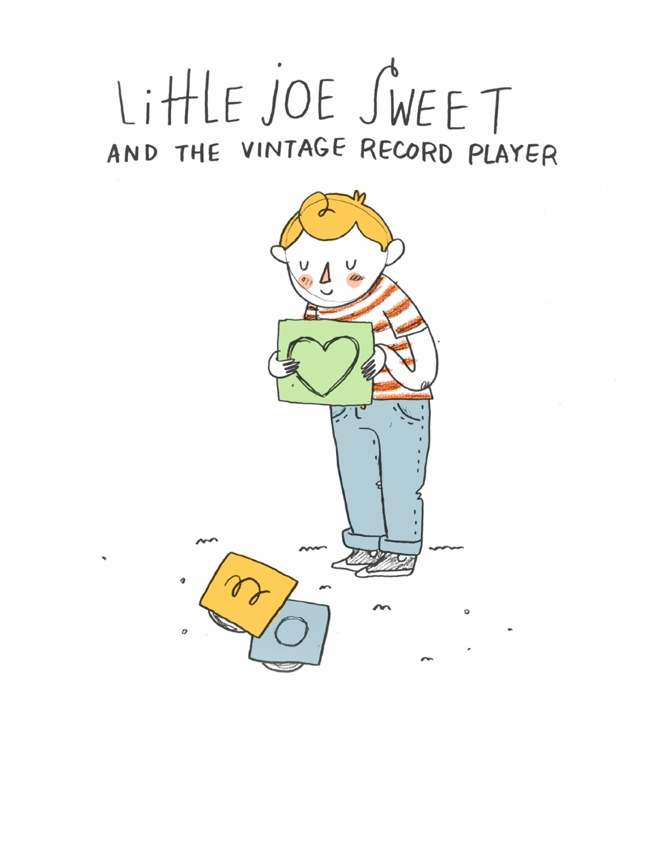 It's always a pleasure discovering new talent on Scribd. From authors, indie publishers, researchers, and everything in between. We especially take note when those publications and writers are developed around beautiful design and layout.
This week, we had the pleasure of stumbling upon Little Joe Sweet, and the rare opportunity to interview the character from a beautifully illustrated story about a crafty kid who has aspirations to open a record store. In an age of digital music, we can appreciate a kid who loves vinyl. Little Joe Sweet has a thing for vinyl. And swap meets. And bluegrass, country, obscure electronic mixed with ambient pop.
Just who is this kid and how can he possibly share this wide-range of musical knowledge and good taste? We got to know him a bit more.
We spent a few minutes interviewing Little Joe, the likable character from the illustrated story, The Vintage Record Player. Following the interview, you can read the entire story from Scribd, embedded at the bottom of the post.
Scribd: Tell me a bit about yourself? What do you do? How long have you been writing? Little Joe Sweet: I'm just a weirdo kid who loves music. My life is perfectly simple because I know what I love. My work is a tribute to everyone who loves something so dearly that it makes life better. I am the embodiment of joy. I am the embodiment of bliss. I am a fan of Joy Division and I'm proud to say that I dance like a dork.
Scribd: Tell me a bit about the Vintage Record Player? Little Joe: Little Joe Sweet And The Vintage Record Player is the story of my life. It's the story of my dreams. It's a tribute to all the weirdos out there who spend Sunday morning shopping for vinyl and Friday night alone listening to it. It's my story and someone just took the time to write it.
Scribd: Do you have other works which you would be inclined to publish on Scribd? If so, tell us about those! Little Joe: Not yet. There will be other Little Joe Sweet books coming out. They will be tributes to all of my favorite things. They include Little Joe Sweet And The 90's Flannel Collection, Little Joe Sweet And The Great Big Beard and Little Joe Sweet And The Nautical Themed Interior Design.
Scribd: How did you discover Scribd? Little Joe: I was searching for the perfect platform to release my story. My story is just a story that someone else decided to tell and I wanted to offer it for free. I embrace discovery. I embrace the simplicity of discovery. I want everyone to share my story for free and Scribd is my tool for that!
Scribd: In your search for literary marketplaces or products, what other sites do you rely on using? Little Joe: None.
Scribd: Do you use Scribd to further your literary work, or has it helped provide a springboard into other avenues or mediums for publishing? Little Joe: This is my beginning. It's my intro.
Scribd: What is your current opinion on the literary marketplace for sites like Scribd and Amazon? As an author, are your seeing places that accommodate your work? Little Joe: The literary world is not yet built for me. I'm a character in a world of authors. I'm a character in a world of egos. I exist because my story exists. Oh, and I like New Age tunes.
We hope to see big things from Little Joe on Scribd. In the meantime, explore his world through the eyes of Little Joe -- a wonderfully animated character and his extremely impressive knowledge of music.
[scribd id=135695238 key=key-1yqrcf6xmjzvc0xxvr5p mode=scroll]