We 'Declare There Is No Enjoyment Like Reading'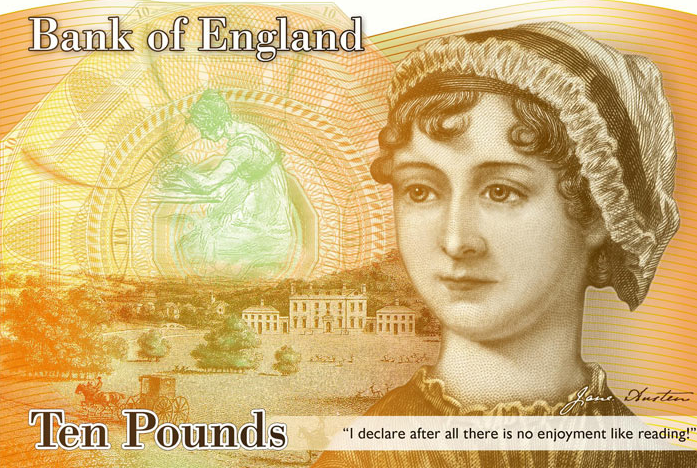 Today, was a good day for fans of literature. This morning, the Bank of London announced that it was honoring Jane Austen with a place on the 10 note. Austen will replace naturalist (and author in his own regard), Charles Darwin sometime around 2017.
Austen famously captured, 18th century English life and society.
 Personally, our favorite is the quote that will be etched into the note's surface, "I declare after all there is no enjoyment like reading!"
Austen, one of the most-beloved writers in the lengthy pantheon of Britain, rose to literary prominence by her novels Emma and Sense and Sensibility. Her acerbic wit and wisdom provided a detailed look at the various stratification of life in 1800s English society. Austen is celebrated to this day with elaborate costume parties and this year also marks the 200th anniversary of the publishing of Pride and Prejudice.
According to the Bank of England, the note commemorates various aspects of the Hampshire native's life including her writing table, a print of Austen commissioned by nephew James Edward Austen Leigh, and the quote taken from her eponymous novel.
Speaking of Austen - she also made an incredibly interesting literary list. Most of the books that are ranked, make the cut based on the judgement of academics, journalists or reviewers. Today, Maria Popova, internet curator extraordinaire, revealed the top books in literary history - but with a twist. These results were compiled from 125 authors (and edited by J. Peder Zane), who ranked the popularity of books they viewed as great, and ranked them accordingly. Emma was ranked the tenth most popular book in 19th century literature.
You can read Emma by Jane Austen by clicking here.