A New Device and a New Look for the Scribd App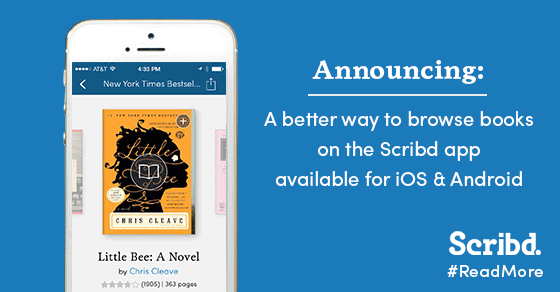 It's a big week for Scribd: not only are we happy to announce that the Scribd app is now available on Windows devices, we've also released an update for our existing mobile apps. Current iOS and Android app users will find a fresh, new look that matches what you may have noticed on our website – new fonts and a new color palette – and improved functionality as you browse for books. Here's what's new:
A redesigned book page that includes in-depth descriptions, reader reviews, and related books
Seamless book-to-book browsing
Streamlined management of your Library – tap the new "+" sign on books to instantly save them to your device, add them to your library, or add them to a collection
With the addition of Windows devices to our selection, we continue our commitment to making Scribd available on more devices and in more countries than any other book subscription service. "Our mission is simple," said Julie Haddon, Vice President of Marketing at Scribd. "We're empowering people to read more. We're celebrating this milestone of launching apps on six platforms with a new campaign, #ReadMore."
Windows phone and tablet users can now find the Scribd app in the Windows app store, and enjoy unlimited reading anytime, anywhere. To get Windows users started reading more, we're excited to offer them a three-month free trial: just go to www.scribd.com/promo/windows90 and #ReadMore.