Scribd Updates: A New Way to Browse on Mobile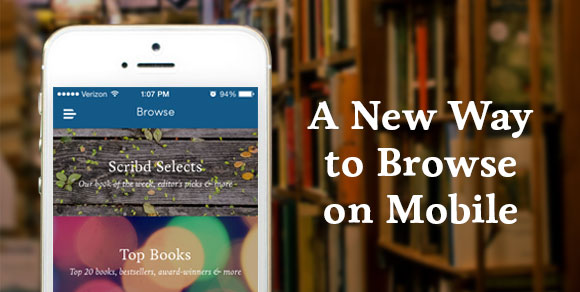 We're really excited about our latest round of updates to the Scribd app. Not only have we brought our completely re-imagined browsing experience to mobile, we've also made lots of improvements under the hood to keep Scribd running better than ever.
A new way to browse on mobile
Finding new books on Scribd just got easier and a lot more fun. Now, you can browse more than 1,800 categories on your iPhone and iPad, from the highest level (think Fiction & Literature or History) on down to the nichest of niches (like say, Space Operas or Biographies of Outlaws). If you're looking for our recommendations, you can explore hundreds of special collections hand-picked by our editors, including Nordic Noir (for fans of Girl with the Dragon Tattoo), Secret History (for history buffs and would-be codebreakers), and Behind the Scenes (for amateur film critics and cinephiles).
An improved reading experience
You spoke, we listened: Many, many of you have requested two-column mode for tablets, and today we're happy to say you've got it. Just turn your tablet to landscape mode to check it out. We've also made a bunch of other improvements, from improved syncing between devices to speedier book downloads to improved layout and hyphenation. Last, but not least, we've added support for Japanese and Chinese characters. 万歳!
That's all for now! Questions? Comments? Unsolicited life advice? We'd love to hear it: support@scribd.com.