#FridayReads: What Year Is It? Edition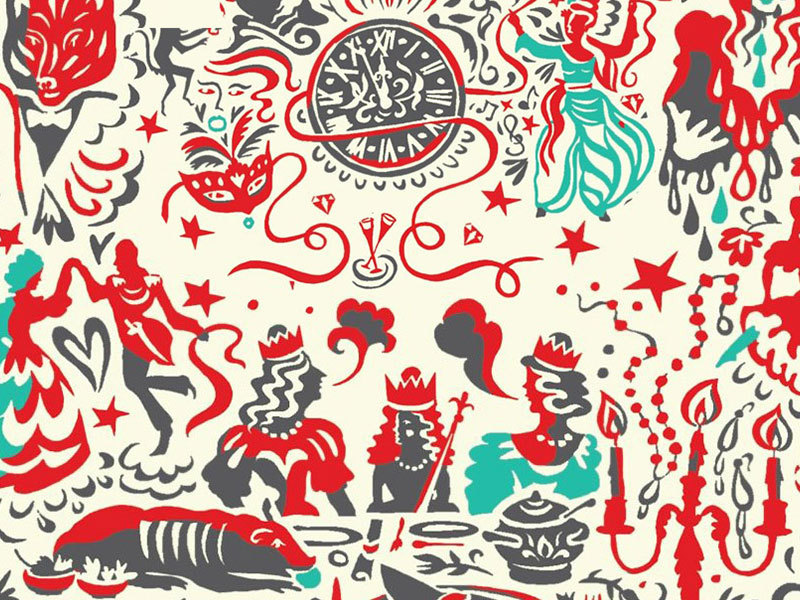 A great critic once called literature "equipment for living." This week, we re-equipped ourselves for the new year. Maybe it's because we're all still recuperating from holiday overload, but a lot of us found ourselves gravitating toward stories about the stresses of social situations, whether raging parties or awkward dinners or just trying to make small talk with someone you don't know.
---
Justin: I picked up this collection, having read it in a blaze more than a decade ago. I'm embarrassed to say that I hardly remembered it beyond the vague feeling that I'd enjoyed it. As soon as I started, though, I was seized with powerful memories: a car rumbling over a hot, dusty plain in the title story, the patient Indian tour guide sizing up his self-absorbed Western passengers; the newly married couple discovering gaudy Christian tchotchkes tucked into every corner of their new home. These are stories that linger with you, that become a part of you whether you realize it or not. Lahiri is frequently praised for her delicate, subtle prose, but on second reading it's her wonderfully acute sense of irony that stands out to me. She's a sensitive observer of the micro relationships that form between strangers in different situations: a tour, a dinner party, a tutoring session. Watch the way the differences manifest themselves. It's not just about how it feels to be an immigrant—it's about how it feels to be a person.
Niree: In the tradition of Capote's In Cold Blood comes Quiet Dell, a true crime inspired novel from accomplished wordswoman Jayne Anne Phillips, more fiction than fact, but still packed with a whole lot of suspense and a hefty dose of romance.
Phillips takes us to the small town of Quiet Dell, West Virginia, where there's been a series of horrible murders. A woman and her three young children are slain, the main suspect a man who promised them everything: money, stability, love. That's the true part. The make-believe part includes a tenacious young woman who travels from Chicago to cover the story along with a bold photographer. While Phillips takes liberties in connecting the dots, she also stays true to the facts when appropriate. Her delicate portrayal of the children, nine-year-old Annabelle especially to whom she's dedicated this work, illustrates not only her lyrical prose but also her imaginative prowess.
While I've been on a several-months long crime kick (see my last review of Lost Girls), this is a read so satisfying, I want the taste of it to linger untarnished so I'm considering the serial killer chapter of my reading life to be closed. For now.
Mallory: There's something perennially fascinating for me about a bringing a group of people together in a single shared space and watching all the ways in which they interact (or don't). When reflecting on the beauty & horror of social settings, I often return to the masterful renditions of people confined together in claustrophobic spaces written by Henry Green (who is notably missing from this collection); but Suzette Field has given me a wealth of new scenes to consider. She covers party hosts ranging from Christopher Robin to the last king of Babylon, with a methodical approach and detached tone that feels downright cathartic in the wake of holiday party season. Some of the soirees she chose I am familiar with — The Strange Fête in Alain-Fournier's Le Grand Meaulnes, Lady Metroland's Party in Evelyn Waugh's Vile Bodies, and, of course, the Saturday Night Parties thrown by Mr. Gatsby—but most are new to me, making the net result of this #FridayRead an even longer reading list. 
Regina: My friends often accuse me of being hyperbolic. I consider it a compliment since everyone knows a hyperbole is the best literary device in the world. Ever. So when I heard about Hyperbole and a Half, I knew it would be right up my alley. I was delighted to discover this collection of personal essays by a fellow dog lover who is prone to delusions of grandeur and lapses in self-control when it comes to cake. "Well this is great," I thought to myself, "this writer and I share more than just a fondness for exaggeration." I read the entire book in one night.
Even if you're a self-disciplined, cat-obsessed, pie-eater, there's a good chance you'll still love and relate to Brosh's honest, vulnerable, and laugh-out-loud funny prose. The illustrations sprinkled throughout each essay emphasize key points of the narrative without distracting from the writing. All of the illustrations are hand drawn and very cute, except for the photos the author snapped while held hostage inside her home by a wild goose. Thankfully, (for me at least) that particular experience was not so relatable, but a great story nonetheless.
Alex P: I read Ann Patchett's novel Bel Canto several years ago, and I honestly can't remember if I liked it. I remember the plot only in broad strokes. In a certain strange aspect, though, I remember that novel far better than I remember most. Any mention of Bel Canto immediately evokes in me a very specific vision of light—the bright, calm, even ethereal sunlight of morning, splashing over an attractive living room, the hardwood floors warmed by its touch. I remember how I felt as I read it: quietly affected and contemplative, taking every opportunity I could to return to the novel's microcosmic world, but without urgency; I remember a sense of calm inherent to the atmospheric novel, regardless of its dramatic vertebrae.
Whether or not the image of that sunlit-strewn room exists in the novel as I remember it doesn't seem quite germane. Whether or not I liked the book as I read it doesn't, either (though after reading over the previous paragraph it seems impossible that I didn't).  That Patchett conjured and implanted so specific an image so indelibly in my mind is all the proof I need of her skill as a novelist. The introduction to This is the Story of a Happy Marriage, a collection of her nonfiction essays, is all the proof I need of her skill as a writer of any sort. Despite claiming she's never been a proponent for the "write what you know" camp of fiction, she's strongest here when covering ground she knows so intimately well: "Writing is a miserable, awful business. Stay with it. It is better than anything in the world."