#FridayReads: "My Train's Delayed" Edition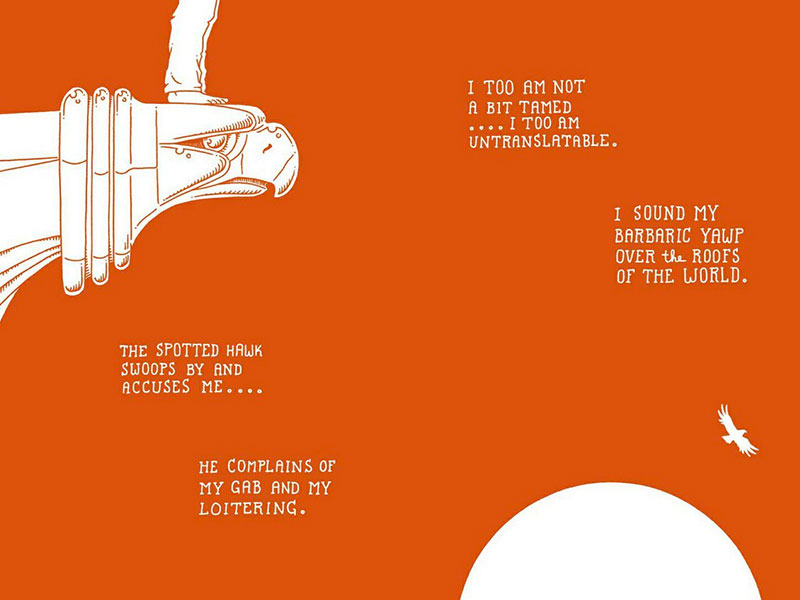 Though the trains in and out of the City by the Bay aren't the most reliable, the trains bringing new books to our library continue to arrive right on schedule. This week we've been celebrating new titles from Macmillan, Tin House, McSweeney's, and others. Not surprisingly, a few of those titles crept into our #FridayReads. With these books in hand, the train home can take its sweet time.
---
Leigh: If you could sum up America in a poem, "Song of Myself" might come to mind. Whitman encapsulates the spirit of a free soul living genuinely, unabashedly, eternally. How can this epic poem get any more magnificent? Answer: when it's breathtakingly illustrated by Allen Crawford. Crawford's whimsical style brings Whitman's prose alive with hand-drawn letters weaving through brightly colored illustrations. The reader gallivants through these playfully rendered sentences in pure visual joy page after page. It's a pleasure to see Whitman's imagery given new form without constraining the sense of expansiveness that makes Whitman's poem so grand. So, go ahead: this hour ordain yourself loos'd of limits and imaginary lines, and dive into this dazzling portrayal of the timeless words of America's greatest poet.
Niree: What with the rock stars of yore slowly fading away, replaced by the flashy, trashy celebrities of nowadays (but isn't that always, apparently, the case?), it's easy to forget how profoundly those old timers have shaped our culture. Mick. Dylan. Ozzy. Rod. Bowie. Elton. But none so important, so defining, as Lennon. As with most events that predate my existence, I don't spend a lot of time thinking about John Lennon or the Beatles. Of course, I know the songs; I get the references. But their significance is ephemeral, just beyond my reach. That all changed when I picked up this biography. John Lennon: The Life is comprehensive: From his birth to his untimely death, this book's got it all. But not only that, formidable Beatle's biographer Philip Norman revives the creative genius that was Lennon, so that by the time you get to that well-known scene—the gunshots, the crowds—it's almost like you were there, suffering the loss alongside an entire generation.
Alex P: Roxane Gay summarizes her collection of nonfiction essays best:
"These essays are political and they are personal. They are, like feminism, flawed, but they come from a genuine place."
That title, Bad Feminist, seems to imply either self-flagellation or self-congratulation, but neither is accurate. She is out to criticize neither feminism nor herself, though—as the above quote attests—both come under her scrutiny. Gay's essays, instead, are remarkable for their generosity: to herself and others; to feminism, both its advocates and detractors. There's room for improvement in all, and she isn't afraid to point out where those failings lie. But she does so with humanity, humor, and, ultimately, forgiveness. It's a peek into the thoughts of a woman who's both a funny and insightful cultural critic and a compassionate observer of human nature. Narrated by the award-winning Bahni Turpin and covering everything from competitive Scrabble to Lena Dunham, it's an achingly relevant non-manifesto that's a pleasure to listen to, regardless of the topic.
Ashley: While I love The Fault in Our Stars and A Walk to Remember (I have read those books multiple times, and let's not get started on how many times I've watched their movie adaptations...), I decided to give my tear ducts a break with a non-tragic (Yes! It's possible!) cancer story, Side Effects May Vary. Julie Murphy has added a twist to the Kids with Cancer trope. Knowing that she's going to die sooner rather than later, Alice, our KwC, spends a year exacting revenge on peers who have wronged her (she also confesses to her best friend that she loves him), but just when she thinks she's about to bite it, she finds out she's in remission. Now, she has to deal with the consequences of the choices she made while dying, choices that come out slowly, through flashbacks, as the story progresses. Normally, people are pretty happy to find out they're not dying, and that they can go to movies and cuddle with the person they love, and all that. But that's not Alice's reaction at all. "I knew how to die. It was living that scared me," she says. She's not afraid just because of the immediate damage to her social status her hijinks will bring. It goes much deeper than that—it's because Life and its unknowns are scary and sad, even without cancer, and Alice doesn't know how to face those fears. That brutal honesty, not sugar-coated like in the Nicholas Sparks novels I love so much, is what has touched me the most while listening so far.
Justin: I love what Hilton Als does in this virtuosic collection of essays. I love the way he effortlessly blends memoir, cultural criticism, and fiction. I love his honesty about his race, his sexuality; his sense of humor, especially about the former; his fearlessness in tackling thorny subjects without pretending to have answers. Most of all, though, I love his attentiveness: the way he tracks a thought or feeling as long as he needs, until he unlocks it with an insight that's as true as it is troubling, as in the way he describes the heart of a long-time friendship with a straight man:
"Part of our shared tragedy—we recognized it at once—was that we never separated from our mothers, which meant we liked girls more than the world liked them, which is to say more than they liked each other, let alone themselves."
Forget all that nonsense about listicles and Facebook posts killing great long-form writing. This past year saw a positive surfeit of brilliant essay writing, from Leslie Jamison to Roxane Gay to, yes, Hilton Als. The essays gathered herein are a testament to the power of writing that refuses to abide by character limits.