#FridayReads for 10/9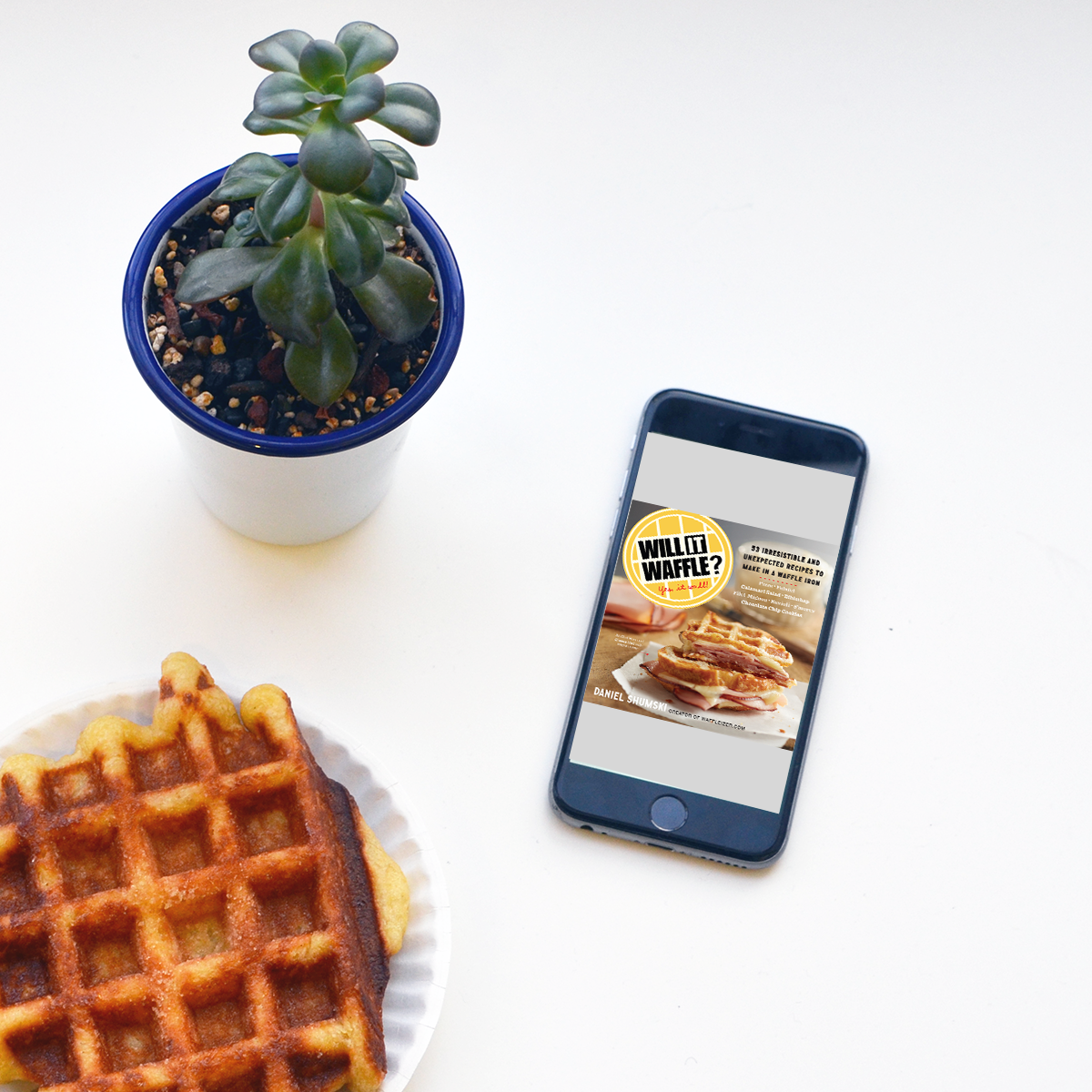 Will It Waffle?
[button link="https://www.scribd.com/read/237144077/Will-It-Waffle-53-Irresistible-and-Unexpected-Recipes-to-Make-in-a-Waffle-Iron" class="flat_btn" window="yes"]START READING[/button]
Kiri: Daniel Shumski set out on a quest to answer one of life's most important questions: "Will it waffle?" In doing so he created the delightful food blog Waffleizer, the inspiration and source for this book. With 53 entertaining and mostly non-traditional waffle dishes, Will It Waffle? is the guide for creating a four-course, all-waffled meal.
This cookbook covers a plethora of waffles, from the everyday ones that can be whipped together for a last minute brunch, to the delicious overnight risen waffles. However, the recipes that truly shine are the non-conventional ones, like the Waffled Filet Mignon, Zucchini-Parmesan Fritters, and Red Velvet Waffle Ice Cream Sandwiches. A waffle maker is a remarkably useful tool for creating crispy yet tender dishes, with the waffled ice cream sandwiches being the ultimate mix of tangy and sweet, crunchy and pillowy.
Shumski also entwines vital basic information for any aspiring waffle chef into his recipes. From a guide to proper iron cleaning (make a batch of sacrificial waffles to absorb leftover bits from previous use and then attack the waffle groves with a soft toothbrush to remove the grime), to proper iron safety (irons are hot—watch for those fingers), to technical tricks for the perfectly shaped waffle.
The seemingly Herculean task of turning each of these traditional dishes into Pinterest-worthy waffles is made simple by Shumuski's detailed instructions and mouthwatering photos. The true takeaway from all of these recipes is: yes, it will waffle.

More Happy Than Not
[button link="https://www.scribd.com/listen/281654341" class="flat_btn" window="yes"]START LISTENING[/button]
Ashley: Aaron Soto doesn't have much to smile about. His father committed suicide, his family struggles to make ends meet in the near-future Bronx, and he has a very noticeable scar on his wrist from when he tried to commit suicide himself. Even having an artistic and amazingly sympathetic girlfriend doesn't bring Aaron much joy; after she leaves for art camp, Aaron struggles to accept his sexuality as he falls for his new best friend, Thomas. Rather than try to end his life again, Aaron often wonders about and wishes he could undergo the Leteo Institute procedure that promises to help you forget any unpleasant memories that might be holding you back.
The last thing I want after reading More Happy Than Not is to forget its compelling characters, its deft depiction of class politics without relying on stereotypes and slang left and right, or its message that hardship helps us find happiness. "We all make mistakes. Every wrong job I take is a mistake, but it's also a step in the right direction. If nothing else, it's a step away from the wrong one," Thomas tells Aaron. Adam Silvera's debut kept me hooked to its hopeful outlook even as it stayed rooted in the gritty, grimy realities of poverty and adolescence.

Fates and Furies
[button link="https://www.scribd.com/listen/281045947" class="flat_btn" window="yes"]START LISTENING[/button]
Alex: Depending on how you look at it, "Fates and Furies" is either a pretty dramatic or an incredibly fitting title for a book about a marriage. Lauren Groff's novel proves to be both. A contemporary Greek tragedy (or comedy—as one of the characters notes, the only difference is "a question of perspective"), Fates and Furies examines the intricacies of a marriage. "Fates," the first half of the novel, follows the perspective of Lancelot "Lotto" Satterwhite. He's described as aglow with a light that enables others to look past his narcissism. He never questions his journey towards becoming a world-renowned playwright; he expects things to work out for him, and they do. "Furies," the second half of the novel, shows why: shifting perspectives to that of his wife, Mathilde, the entire story shifts alongside it. Mathilde is a force of nature; she leaves nothing to chance, making her own—and Lotto's—luck. The discrepancy between their experiences forms the meat of the novel's examination of how our past defines us, and how well you can ever truly know someone.
As dramatic as that sounds (and is), part of what makes Groff's novel so compelling is that the discrepancy in perspective doesn't change that their marriage is, at its core, a happy one. Mathilde is complex and far darker than Lotto senses, but ultimately she adores him as much as he does her. It's fascinating to treat a happy union with all the complexity and analysis we do unhappy ones. Combine that with Groff's writing—playful, erudite, shining with literary allusions and nearly Nabokovian wordplay—and Fates and Furies becomes one of my favorite recent reads.

The Life-Changing Magic of Tidying Up
[button link="https://www.scribd.com/listen/281637763" class="flat_btn" window="yes"]START LISTENING[/button]
Lara: Japanese cleaning consultant Marie Kondo's KonMari Method, which involves clearing and organizing your items by category—and all at once—is said to be so successful, not one of her clients has "relapsed" into living amidst clutter. Kondo also has a three-month waiting list for her services. But her book, The Life-Changing Magic of Tidying Up sheds light on so much more than cleaning house. Sure, there's detailed advice on how to store items (simply!), and even fold clothes in such a way that they can be placed vertically in drawers, to better retain their shape and be more easily seen. Yet for that key—and so often difficult—moment that comes when one needs to decide what to keep or give away, Kondo suggests readers touch each and every item, and then ask themselves, "Does this spark joy?" And here, of course, this small, beautiful question begets revelation. If you hold something, and feel anything other than joy—anything negative, whether it's an association, a memory, or just a gut feeling, then that item should be tossed. Why? Because according to Kondo, "Being surrounded by things that spark joy makes us happy." It's life-changing advice—in every enlightening sense.